Issue 5 of Australian Custom Trucks
ACT0005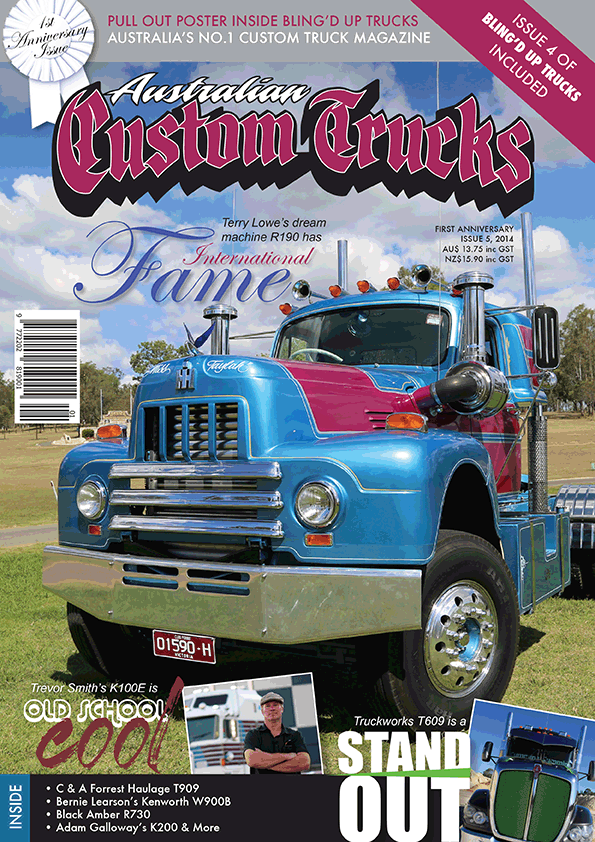 Back Issue Magazines
INSIDE ISSUE 6
Morpheus the Mythical Truck of Dreams
This hardworking New Zealand Kenworth logger has some impressive additions, including artwork based on the character Morpheus from the movie The Matrix.
International Fame
Terry Lowe now owns his childhood dream truck, the International R190once owned by Mick and Faye Gardiner.
Old School Cool
Trevor Smith spends his days with a beautiful 21 year old K100E, but as well as its good looks, this truck has an interesting history.
Blingworkin'
Kelly Muir is one lucky truckie, she steers a 2012 Kenworth T909 impressively customised by A & I Custom Chrome Truck Accessories for C & A Forrest Haulage.
Hotel California
Peachey Heavy Haulage's new K200 Big Cab, dubbed "Hotel California", is coupled to a new Drake transporter. Adam Galloway from Greymouth, New Zealand explains why the Kenworth was his "Truck of Choice".
Stand Out
Brendon Levi, the Towing Manager and driver of Truckworks new T609 talks about the rig and its performance on the job. The colour coordination extends to a green Cummins engine.
Bernie's Idea
Bernie Learson's 1985 Kenworth W900B is one of the most recognised trucks on the roads of Australia. Learn how that came to be.
Black Amber
Only two of the Scania Black Amber special edition models made by the legendary European truck designer Svempa made it to Australia. This is the story of one of the highly customised 730 horsepower trucks.
Steve Joliffe
Steve Joliffe's bright yellow Kenworth W model has been in the family since the early '80s. This is the story of its 13 year custom rebuild, it is a spectacular story.