Issue 8 Australian Custom Trucks
ACT 008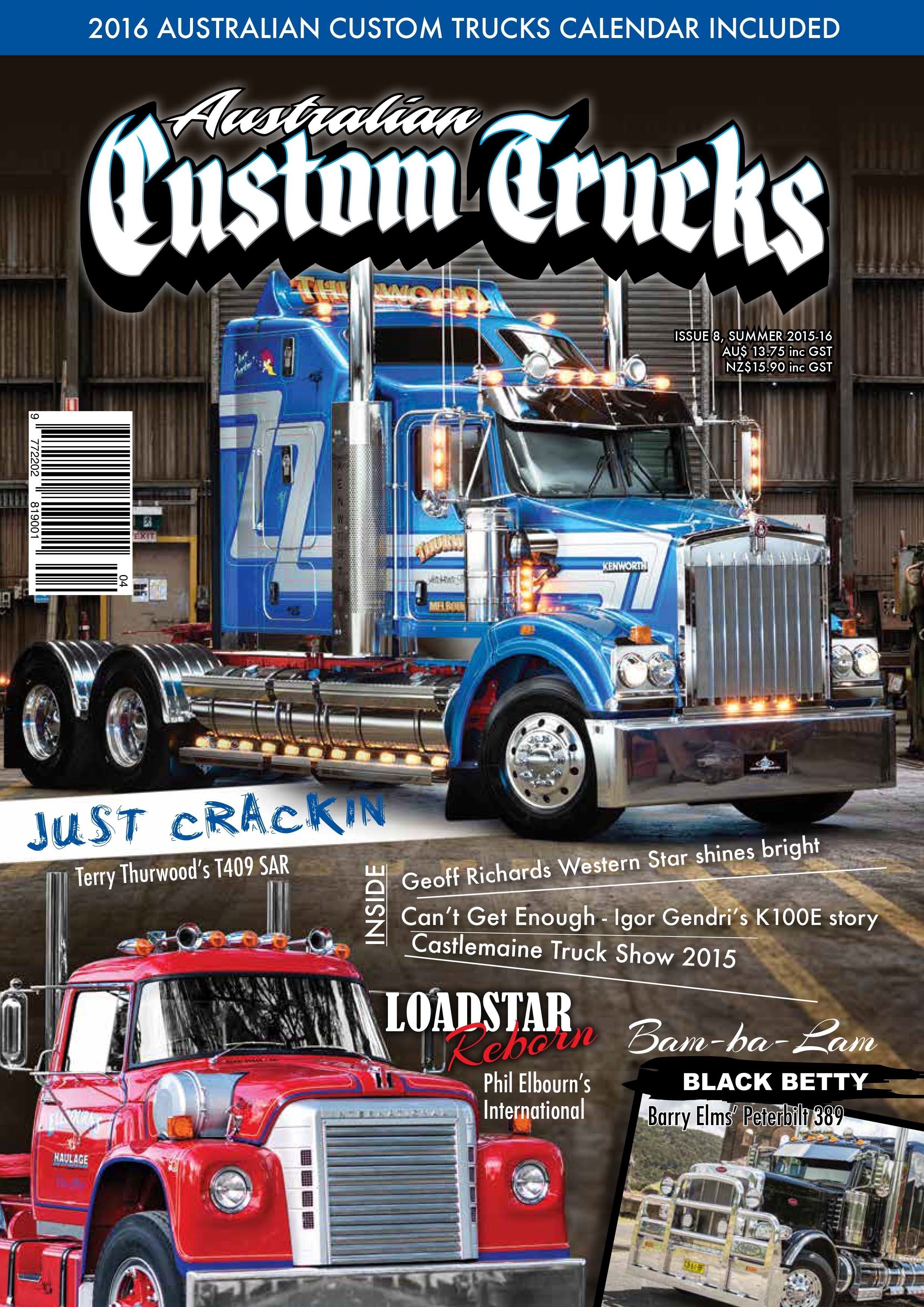 Back Issue Magazines
Issue 8 is the biggest edition yet of Australian Custom Trucks and it has been created especially to please. With its awesome list of custom trucks, truck show people coverage, posters and its first ever calendar, we are sure that you are going to love reading it as much as we loved creating it!
What's inside this monster issue?
Loadstar Reborn - Kuchel Custom Trucks perfectly restores Phil Ellbourn's International Loadstar.
The Brightest Star - Rocklea Truck Electrical applies the works to this custom Western Star owned by Geoff Richards Transport.
Devil Dog - Ross Transport celebrates 40 in style with its first Mack in over 30 years.
Just Crackin - Klos Custom Trucks finish to perfection Terry Thurwoods's 2015 T409 SAR.
Sonic Boom - Pat Rositano's K200 is built for go as much as it is built for show.
Bam-ba-Lam Black Betty - Barry Elms took the plunge & bought his dream machine, a 2014 Peterbilt 389.
The Judge Rules - Scott Shaw spent plenty of time planning the creation of his perfect truck, a 2013 Kenworth T909.
Can't Get Enough - Igor Gendri spends five days a week working as a company driver yet he bought a K100E just to drive on the weekends!
Classy Tipper - Burrell's Soils & Sands based in Newcastle has taken ownership of a superbly customised K200 tipper.
The action from the Brisbane Convoy for Kids 2015, news about the Lights on the Hill, the Castlemaine Truck Show 201 and Models with Dan Murphy.
We also introduce the Australian Custom Trucks Photography Club and ending on a great not as always Max & Mick - Axle Kustoms.

Yep, she is a bumper issue!