Issue 9 Australian Custom Trucks
ACT00009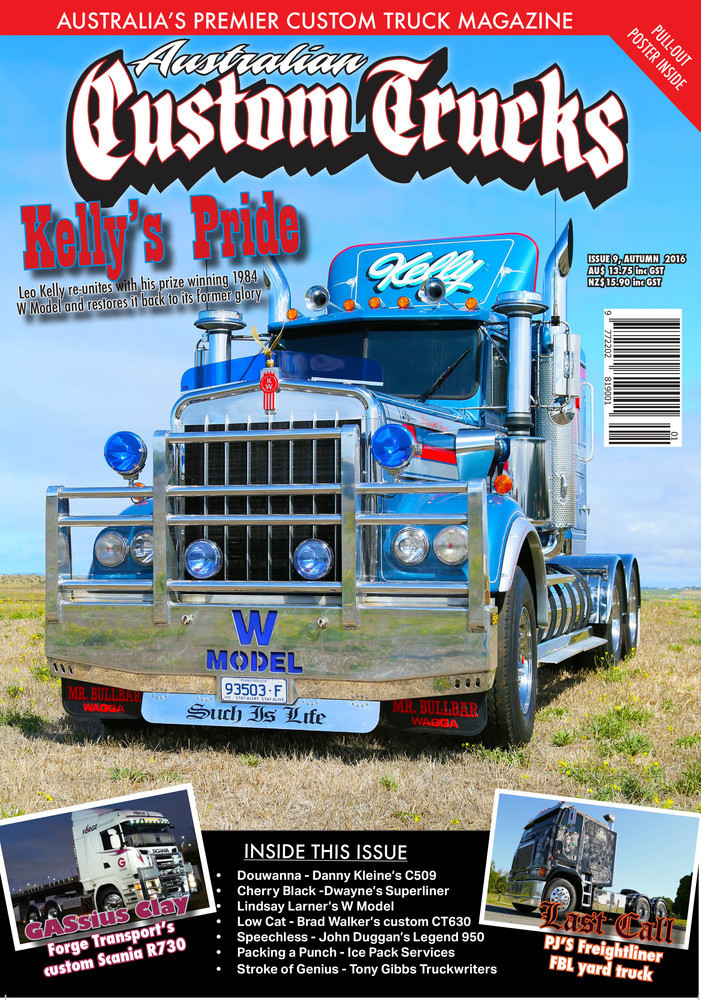 Back Issue Magazines
Issue 9 of Australian Custom Trucks magazine features Leo Kelly's W Model on the front cover. This is a great story of how Leo found, bought back and restored the first and only truck he had ever bought brand new. After almost two decades his son Daniel found it through Facebook.
Dwayne Shanahan's Mack Super-Liner features parts sent through from SLS to set off its "cherry-black" paint job.
ACT takes a look at Forge Transport's R730 Scania made to look impressive by Rocklea Truck Electrical.
Kyzer Kustoms Turns Danny Kleine's monster Kenworth C509 into one good looking stock truck.
We feature master truck customisers Ice Pack Services (IPS) in a company feature.
PJs in Brisbane have created a stunning visual spectacular with its Freightliner FLB "Last Call".
One of the Kenworth T950 Legends belongs to John Duggan. This one is special and raises awareness for autism. A cause close to his heart.
ACT features Tony Gibbs, a legendary signwriter in the transport industry that made the move up from Wagga Wagga to Queensland with his business Tony Gibbs TruckWriters.
Exodas Transport enlisted the services of RTE to finish off perfectly a K200 . This truck has won prizes across Australia.
Lindsay Larner's Kenworth W model has been modernised for a working life by Truck' in Stainless.
Brad Walkers Cat CT630 was customised by Kyzer Kustoms.